The question lingering in everyone's mind as they consider buying or selling a home is: Why are available homes so scarce? While you might think it wise to wait until more homes come to market, there are compelling reasons to act now, especially with Evergreen's CashUp Suite of Products at your disposal. Let's delve into the long-term and short-term factors contributing to this housing scarcity.
A chronic underbuilding crisis
Low inventory isn't a fleeting issue; it has its roots in years of underbuilding. Take a look at the historical data on new single-family home construction over the past several decades: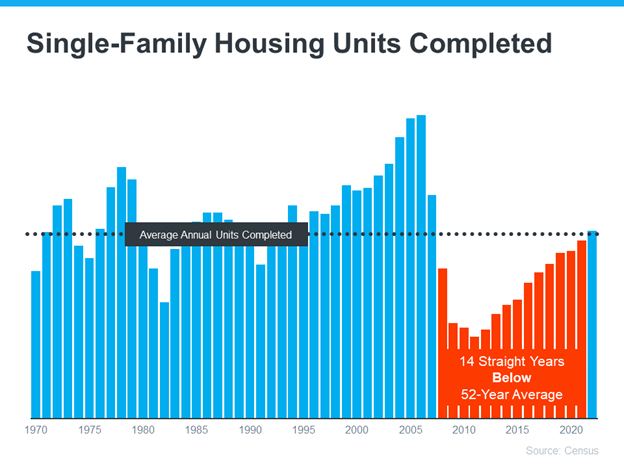 A 14-year streak of falling short of historical average construction rates has resulted in a persistent deficit in available homes. While builders are now building at a rate that meets the historical average, this inventory gap is not a problem that can be fixed overnight.
The mortgage rate conundrum
Another contributing factor to the current inventory issue is what's known as the mortgage rate lock-in effect. Many homeowners hesitate to sell because they fear higher mortgage rates on their next home. This apprehension is affecting potential inventory, as people are choosing to stay put rather than risk higher rates.
However, it's crucial to balance this financial consideration with your personal needs for making a move.
How Evergreen's CashUp Suite of Products can make a difference
In markets like these, Evergreen's CashUp Suite of Products can provide a significant advantage by offering flexible financing options that can make your offer more attractive to sellers. With CashUp, you'll be able to act quickly and decisively, giving you the edge in a competitive market.
Media-induced fear is no friend to housing inventory
Fearmongering by media outlets, speculating on housing crashes or steep declines in home prices, is further reducing the willingness of potential sellers to enter the market. As Jason Lewris, Co-Founder and Chief Data Officer at Parcl, observes:
"Uncertainty driven by misleading information is skewing real estate decisions, making people hesitant where they need not be."
What this means for you
For buyers: The scarcity of homes compels you to be flexible with your options, including location and type of housing. A competent real estate agent can guide you through the process, even suggesting ways to broaden your search if necessary. With Evergreen's CashUp Suite of Products, you have additional financial tools that could tip the scales in your favor.
For sellers: Low inventory actually works in your favor as it makes your property more noticeable. Now is an excellent time to consult a real estate agent who can help you take advantage of this unique market situation while assisting you in finding your next dream home.
Conclusion
Low inventory is a complex issue influenced by a myriad of factors. If you're contemplating making a move, don't hesitate to seek professional advice from your trusted Evergreen lender. Call us today to learn more about inventory in your area.
Source: Keeping Current Matters