Understanding the Current Housing Market
For many, the dream of owning a home or upgrading to a new one is accompanied by a mix of excitement, anticipation, and sometimes, apprehension. The fluctuating nature of home prices can be an emotional rollercoaster, especially when major life decisions hinge on these numbers.
If recent headlines have made you hesitant about entering the housing market due to fears of dropping home prices, we're here to provide some clarity. Contrary to some beliefs, home prices are not on a downward trajectory. National data paints a different picture, showcasing a consistent rise in home values this year. Just take a look at the graph below: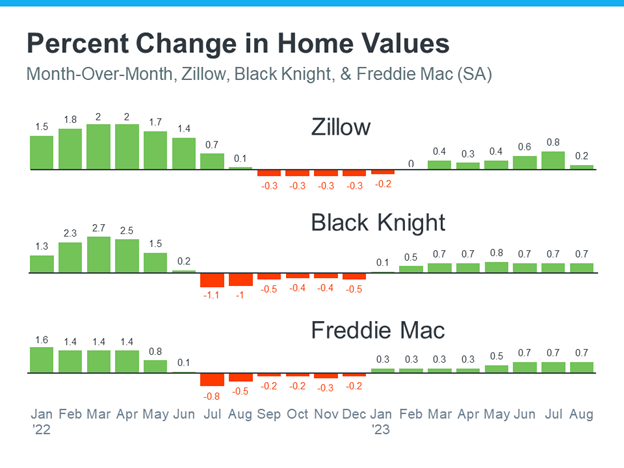 Breaking down the graph:
In the early half of 2022, there was a noticeable spike in home prices. However, such sharp increases are often unsustainable.
The latter half witnessed a mild correction, causing a slight dip in prices. Although short-lived, media coverage amplified these dips, leading to uncertainty among potential buyers and sellers.
Fast forward to 2023, the tide has changed again. Prices are on the rise, but at a steadier and more sustainable rate.
Orphe Divounguy, a renowned economist from Zillow, elaborates:
"The U.S. housing market has surged over the past year after a temporary hiccup from July 2022-January 2023. The brief downturn is now behind us, with the market showing remarkable resilience in 2023."
As we move further into the year, it's typical for home price growth to moderate. However, it's essential to differentiate between slowing growth and actual depreciation. A deceleration in appreciation is still positive growth.
Why this surge in home prices?
At its core, it's a matter of supply and demand. The market currently has fewer homes available than there are interested buyers. High mortgage rates, while dampening some buyer demand, have also reduced the number of homes available. This is primarily due to the mortgage rate lock-in effect: homeowners are hesitant to sell and forfeit their low mortgage rates for higher ones on a new property. Freddie Mac aptly summarizes:
"Rising interest rates have both dampened demand and reduced supply. However, the reduced supply has had a more pronounced effect, leading to increasing house prices."
What does this mean for you?
Buyers: If apprehensions about decreasing home values kept you on the sidelines, it's heartening to know that prices are trending upwards. Homeownership remains an investment that generally appreciates over time.
Sellers: If you've delayed selling your property due to price concerns, now might be the right time to engage with a real estate professional. Current data is in your favor.
In Conclusion
Should you have paused your home plans because of price concerns, know that the national trend is showing an uptick in home values. Let's touch base to discuss how this scenario is playing out in our local market. We're here to guide you every step of the way.
Source: Keeping Current Matters