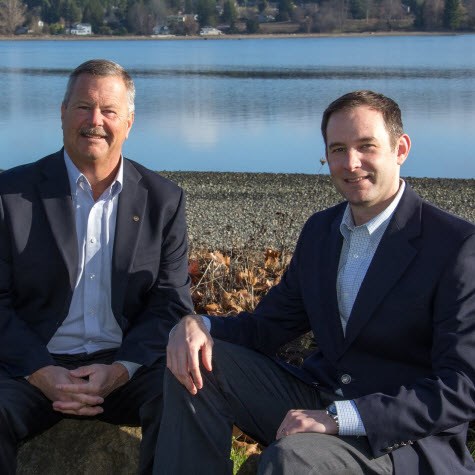 The Hancock Mortgage Team includes Mike Hancock, (NMLS# 108299) Loan Officer/Sales Manager, Kevin Hancock (NMLS# 108328), CFP® / Loan Officer, Jenny Buffaloe, Transaction Coordinator and Kristen Hamrick, Processor. Between these experienced individuals, there's a combined 45-years' experience in mortgage lending and over 1,400 real estate loans closed.
The Hancock Team brings their range of experience to each transaction. Mike is a Certified Mortgage Planner with over 39-years of experience in the real estate industry, having worked as a lender for the past 13 years, title officer, limited practice officer, real estate broker, builder, developer, and land-use consultant. This experience is extremely valuable when issues surface that fall outside the comfort-zone of your typical loan officer.
Kevin has over 11 years' experience as a loan originator. In August of 2009, Kevin completed the Executive Certificate in Financial Planning program at the Dr. Robert B. Pamplin Jr. School of Business Administration at the University of Portland, OR.  In 2011, he passed the CFP® exam and completed the steps necessary to earn his CERTIFIED FINANCIAL PLANNER™ certification. He specializes in mortgage planning, debt strategies, and financial decision making. His knowledge of financial planning allows him to help his clients choose the best mortgage product for their specific situation.
Jenny brings over 11 years of mortgage experience to the team. She has served as a processor, and most recently as a funder for a large mortgage banking firm. She understands the details that go into making a smooth transaction. Kristen worked in retail banking for 11 years before joining the team over 9 years ago. Kristen's banking knowledge is an amazing resource in many mortgage lending situations.
The Hancock Team understands the importance of homeownership and community. Both Mike and Kevin are heavily involved in the neighborhoods they serve. Mike is the past president of the Peninsula Regional Escrow Association, past president of the Home Builders Association of Kitsap County, and a past president of the Rotary Club of Silverdale Sunrise. He currently is on the board of the Silverdale Rotary Club and is incoming Chairman of its International Service Committee. Kevin has been involved in the Kitsap County Association of REALTORS® as a board member and the Home Builders Association of Kitsap County as the State Director. He also coaches local baseball and soccer.
Their hard work and commitment to home financing has garnered them several awards. Mike is a President's Club winner for 2010, 2011, 2012 and the recipient of the Five Star Professional Award from 2011 through 2014. Kevin received the Kitsap Peninsula Business Journal 40 Under Forty Award in 2013, Kitsap County Association of REALTORS® Affiliate of the Year in 2013, and the Five Star Professional Award in 2014.
The Hancock Team is ready to put their experience to work for you.